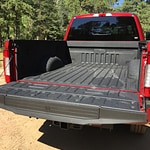 The Ford Super Duty truck is not just your ordinary pickup. This model goes above and beyond to provide the power hard-work owners need to accomplish various jobs. Accompanied by a variety of engine options, a modern 10-speed automatic TorqShift transmission, and other power-inducing amenities, the Ford Super Duty is a top choice in heavy-duty truck options.
An entry-level 7.3-liter gasoline V8 is available on every Ford Super Duty and is known as being the largest included engine in any full-size pickup. Such a reputation is hard to follow, but the 6.7-liter Power Stroke V8 Turbo Diesel does a good job of meeting these standards with its 475hp production. Ending this impressive lineup is a 6.2-liter Flex Fuel V8 engine that delivers maximum torque for driver utilization.
All these engines would not be what they are without help from the Ford Super Duty's signature TorqShift 10-speed automatic transmission. Improving shift performance and optimizing drive ratios, this transmission also boasts five selectable drive modes for performance customization.